Lennys Sandwich Franchise Continues to Lead Franchisee Satisfaction Polls
From training and support to core values and high-quality leadership, Franchise Business Review gives Lennys high-marks across the board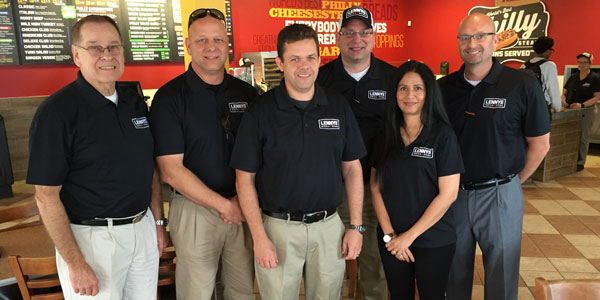 Every year, Franchise Business Review asks for brand insights from a very tough audience: franchise owners. And once again, Lennys Grill & Subs sandwich franchise owners have responded with high marks all across the board.
"These scores are very meaningful for us because it's not an outside group looking in and evaluating the Lennys opportunity," says Jennifer Benjamin, Vice President of Franchise & Market Development. "These are scores that come directly from our franchise-owner family. When we see how pleased they are, it only makes us want to work harder and create even more value for their businesses."
High marks showcase strong brand performance
Lennys owners gave the brand strong scores in four major categories: Training & Support, Leadership, Core Values and an overall ranking. In each, Lennys placed higher than the rest of the sub-sandwich industry. In the Leadership and Core Values areas, owners provided particularly strong scores.
"What this tells us is that our corporate team's vision aligns with that of our franchise owners," Benjamin says. "That's not surprising, since we have a very active franchise advisory council  that works with us on everything from our recent restaurant redesign to menu changes and even evaluating the different online-delivery apps to see which one is the best fit. We have a true partnership with our franchise owners, which is very unique in the QSR industry, and these scores reflect that."
A fast-starting 2019 means even more owner input
Lennys is taking off this year, with new franchise owners coming on board in several states. That's on top of a very successful 2018 and shows how the brand is finding success in markets of all sizes. That means a larger franchise-owner network, and even more engagement all across the network as Lennys continues to grow.
"We are growing in both new and existing markets, which is a sign of strength," Benjamin says. "I know one of the best parts of my job is facilitating new and existing franchise owners   into either becoming a first time owner, or to grow in to multiple locations, and I look forward to even more opportunities to do so as we continue to grow."
Since 1998, when the first Lennys restaurant opened in Memphis, TN, its mission has remained unchanged: to make and serve great food alongside an unmatched customer experience. Known for its signature "World Class Philly Cheesesteaks" as well as unique grilled sandwiches, deli sandwiches and salads, Lennys Grill & Subs offers breads baked fresh daily, premium meats sliced to order and freshly prepared toppings. Lennys is aggressively recruiting new franchisees for single-unit, multi-unit and area development opportunities.
Ready to open a Lennys franchise in your community?
For in-depth details about the Lennys franchise opportunity, download the free franchise report. You also can learn more by visiting the Lennys franchise research pages.