Franchise Owners Say Lennys Core Values Are Key Differentiator
Knowing that a team is behind them and working tirelessly to help them succeed is a major positive for Lennys franchise owners, according to a recent survey
A Franchise Business Review survey is a lot of data, and when it lands on a brand's corporate doorstep there's a lot to review and digest. In the case of the Lennys franchise family, there's also a lot to celebrate.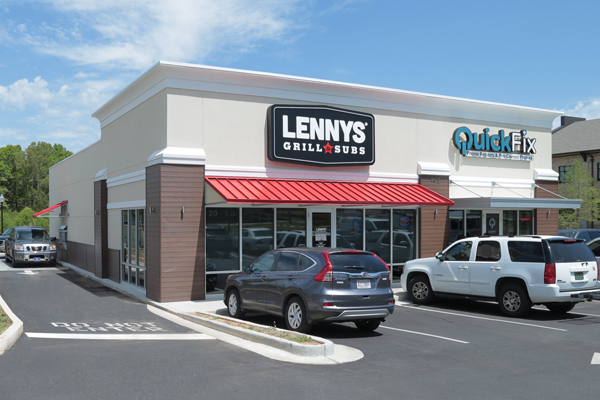 "We always anticipate the FBR review, because it's Lennys owners providing unfiltered input on everything they like about the brand, as well as where they think we can improve," says Jennifer Benjamin, Vice President of Franchise & Market Development. "We look at all of the information very carefully, and we always go first to the 'core values' section because that is so important to what Lennys is."
Values differentiate the brand for owners and customers
Those core values, as assessed by FBR, are: trust, respect, honesty and ethics, and whether the brand cares about owners' success. In each of those subcategories, a solid majority of Lennys sandwich franchise owners surveyed scored Lennys either "very good" or "excellent." That's in line with what Lennys tries to be on both sides of the counter, Benjamin says.
"Lennys has, since its founding, been built on providing great food with genuine hospitality," she says. "That carries over into the way we treat our franchise owners. They are very much our customers, and we want to make sure they are getting everything they need for success. This result tells us we are hitting that mark."

Owner evaluations validate strong core values
In another area of the FBR survey, Lennys franchise owners spoke of their own experience with the brand. They indicated that they are enjoying their business as well as the organization, and they also feel they are active and valued members of the Lennys family.
"That tells us that the Lennys approach to business is being embraced by our owners," Benjamin says. "That's vital to our success, because many owners are looking at expanding. When their friends and family see that, they know that this is a brand with a huge potential for growth, and they become interested, as well. Happy, successful owners are our best marketers."
Since 1998, when the first Lennys restaurant opened in Memphis, Tennessee, its mission has remained unchanged: to make and serve great food alongside an unmatched customer experience. Known for its signature "World Class Philly Cheesesteaks," as well as unique grilled sandwiches, deli sandwiches and salads, Lennys Grill & Subs offers breads baked fresh daily, premium meats sliced to order and toppings that are freshly prepared. Lennys is aggressively recruiting franchisees for single-unit, multi-unit and area development opportunities.
Ready to open a Lennys franchise in your community?
For in-depth details about the Lennys franchise opportunity, download the free franchise report. You also can learn more by visiting the Lennys franchise research pages.