Meet our newest franchise owners in the greater DFW market, Michael and Trina Ueal
A change of careers is just the beginning for this entrepreneurial couple, who believe that Lennys franchise is just the right brand for their next chapter
When Michael and Trina Ueal want to do something, they don't hold back. For instance, when the husband and wife entrepreneurial team decided to open their own business, they were willing to move out of state to do it. Here's how they came to become Lennys Grill & Subs sandwich franchise owners, and the plans they have for their new Grapevine, TX, location, set to open in early fall 2019.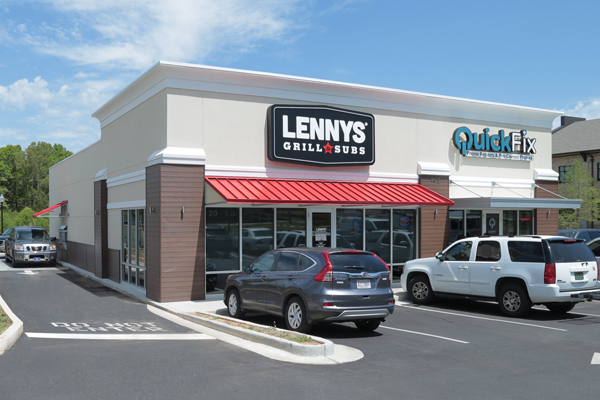 What led you to become a Lennys franchise owner?
Michael Ueal: We were thinking about relocating away from the Memphis area in search of better job opportunities, as we both have been very fortunate in terms of the education we have attained. We wanted to live in a more progressive area, so we began looking at the area around Dallas-Fort Worth and settled on Grapevine. As we researched several markets, we began to look at this step in another way: If we're going to move and pursue new jobs, why not take this chance to operate a business of our own?
Trina Ueal: We knew the Lennys brand and liked the food, and we had always been interested in owning some kind of franchise. We did some research into restaurant opportunities and liked what we read about Lennys. We thought it would be a good brand for growth in the populated area we'll be in, and our location has a lot of shopping and commercial activity around it.
Lennys offers the opportunity to become multi-unit owners. Was that important to you?
 Trina: Yes, very much. We want the opportunity to grow, and that was made available to us from the very outset. Lennys is focused on growth as a brand, , and have a great leadership team in place to help them do that, which was appealing to us.
 What skills do you bring to your new venture?
Trina: We both have experience in the corporate world, and so will be applying that knowledge of good business practices. I will be operating as the day to day operator in our franchised owned location with Michael being involved in a  different capacity, and over time — and as we grow — he'll be working in the new business as well. We are glad that we have the flexibility and support to grow in that way.
How was the corporate team to work with, from initial inquiries to your onboarding?
Michael: They have been great. Everything we asked they already had an answer to or got one for us right away. Their help has allowed us to focus on things like beginning to look for staff and operational needs.
Trina: The training was very informative. Being new to this industry, there was a lot to take in, but the team had a curriculum in place that helped me learn everything needed to run a successful business. This included everything from learning the process of how to handle the back of house office functions to being able to make a delicious philly cheesteak on the grill to understanding how important it is to take care of our guests.   I feel like it helped me better understand what my day to day will be like and how to efficiently manage my business. 
Michael: We also liked the focus on really making things the way the customer wants them, but also paying attention to portions. I really liked digging in and learning how to make the salads, how to prepare the bread, how to open and close the restaurant, how to schedule our staff and control our food cost.
Trina: They were very transparent. They gave us franchise owners' numbers so we could talk to people who were happy, and some who are struggling a bit. We got everything we needed to make sure the brand is top-notch and so we could get the real lay of the land.
What mindset do you think someone needs to make a success of owning Lennys?
Trina: I think they need to really have a vested interest in making this work. You can't just own it; you have to want to grow it. How much work do you want to put into the business? All the franchise owners we talked to who were doing really well have done some creative things around marketing and awareness to build their business. It's about putting in the time. 
What's your favorite Lennys menu item?
Michael: The Philly subs are amazing, and right now, the A-1 is my favorite.
Trina: I'd agree with Michael. But, the salads are pretty great as well!
Ready to open a Lennys franchise in your community?
Since 1998, when Lennys first restaurant opened in Memphis, TN, its mission has remained unchanged: to make and serve great food alongside an unmatched customer experience. Known for its signature "World Class Philly Cheesesteaks" as well as unique grilled sandwiches, deli sandwiches and salads, Lennys Grill & Subs offers breads baked fresh daily, premium meats sliced to order and freshly prepared toppings. Lennys is aggressively recruiting new franchisees for single-unit, multi-unit and area development opportunities.
For in-depth details about the Lennys franchise opportunity, download the free franchise report. You can also learn more by visiting the Lennys franchise research pages.