What Sets Lennys Apart From Other Sub Franchises
High-quality food and an unmatched customer experience are core business principles that drive guest satisfaction, repeat business and solid revenues
Treating guests well should be an obvious formula for success in the QSR industry. Read a few online reviews, however, and it's easy to see how many brands miss the mark. Not Lennys, a legendary sandwich franchise dedicated to getting it right.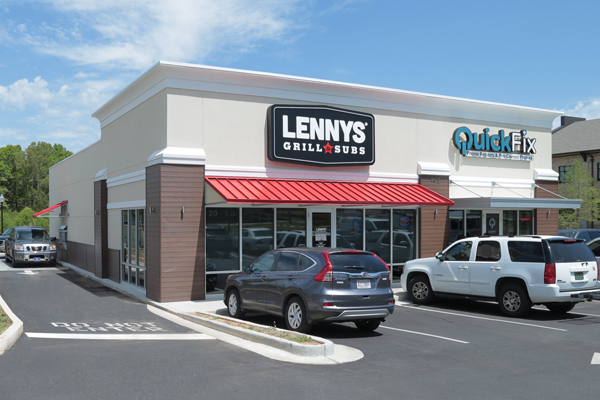 "The guest is the center of everything at Lennys, from menu items to the look and feel of our stores," says Jennifer Benjamin, Vice President, Franchise & Market Development. "When we talk about 'Lennys Best Way,' we're talking about not just how we make our subs, but also our core belief in providing genuine hospitality."
Guest services are core business strategy
From the moment guests enter a Lennys sandwich franchise, they know they are valued. Everyone is greeted and walked through the ordering process in a friendly way. Then guests can see their food prepared, and have it brought to their table. Drink refills and check-ins on quality and satisfaction further enhance the dining experience.
"Consumers have choices, and so we work with our franchisees and their teams to make sure they are engaging with guests at every stage of the visit," Benjamin says. "It builds a culture of loyalty with guests that drives repeat business as well as strong word of mouth."
Supporting franchisees also key
That same, all-inclusive approach to satisfaction also is a Lennys hallmark when it comes to franchisee relations. The corporate team, from the very outset, works with each owner to make sure he or she has all the tools needed for success. And through a franchise advisory council that meets quarterly with the executive team, communication is frequent and transparent.
"There is no Lennys brand without the success of franchisees," Benjamin says. "They are, in every sense of the word, our executive team's customers. By modeling what makes Lennys different to them, we ensure that they carry that drive toward an unmatched customer experience forward to all their guests in turn."
Since 1998, when Lennys' first restaurant opened in Memphis, TN, its mission has remained unchanged: to make and serve great food alongside an unmatched customer experience. Known for its signature "World Class Philly Cheesesteaks" as well as unique grilled sandwiches, deli sandwiches and salads, Lennys Grill & Subs offers breads baked fresh daily, premium meats sliced to order and freshly prepared toppings. Lennys is aggressively recruiting new franchisees for single-unit, multi-unit and area development opportunities.
Ready to open a Lennys sandwich franchise in your community?
For in-depth details about the Lennys sandwich franchise opportunity, download the free franchise report. You also can learn more by visiting the Lennys franchise research pages.