Lennys Grill & Subs: How to Open a Franchise in Your Neighborhood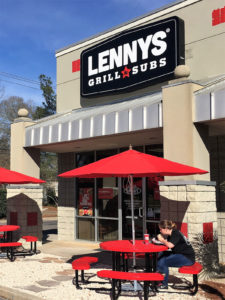 Life sometimes presents you with opportunities, some better than others. But when the opportunity to open a successful food franchise falls into your lap, most people jump at the chance to become an entrepreneur in this space. There are so many reasons to invest in a food franchise: you're buying into an already established brand, you're partnering with people who know how to succeed, you have access to an established business model, training and support, and so much more!
With all the compelling reasons to join in the success of an outstanding food franchise, you might be wondering where to start. Here are our best tips for opening a franchise in your own neighborhood!
1. Conduct Extensive Research on Franchises
Research is always going to be key when you're considering the purchase of any franchise. There are so many options available; however, you'll always want to partner with a brand that is growing and showing signs of continued success. Opening your own sub franchise with Lennys Grill & Subs could turn out to be the best thing you've ever decided to do!
2. Find the Most Optimal Location to Thrive
For a business to succeed, its location is definitely a key component. Some might argue that your location can make or break you. Luckily, when you invest in an established food franchise, you're in good hands. Your franchisor is going to know the ins and outs of where your sub franchise will best thrive.
3. Choose the Best Financing for Your Situation
As an entrepreneur, financing your investment can be one of the most difficult and stressful aspects of your business venture. However, we've seen that financial institutions often lend more readily to those who are choosing to invest in an established brand like a booming food franchise. If they're thinking the benefits far outweigh the risks, we couldn't agree more!
At Lennys Grill & Subs Franchise, we're passionate about what we do and we enjoy seeing people get on board and invest in our thriving sub franchise. If you're ready to learn more about purchasing a Lennys Grill & Subs in your neck of the woods, reach out to our team today!