2017 Franchisee of the Year Andy McGee prepares to open his second location in Alabama in early March.
From Lennys Grill & Subs Employee to Multi-Unit Owner
Back in college, Andy McGee was first introduced to the Lennys Grill & Subs brand when he worked at one. It was then that he decided he would someday be a small business owner. In 2007, at the age of 24, he opened his own location with Steve Brady–his old boss–mentoring him along the way. Now, after 11 years, he's ready to open his second location in the Malbis area of Daphne, Alabama. Currently set to open on March 5th, McGee is confident in the neighborhood he has selected, explaining that Baldwin County is one of the fastest growing counties in that area with high earning families that should create a great customer base.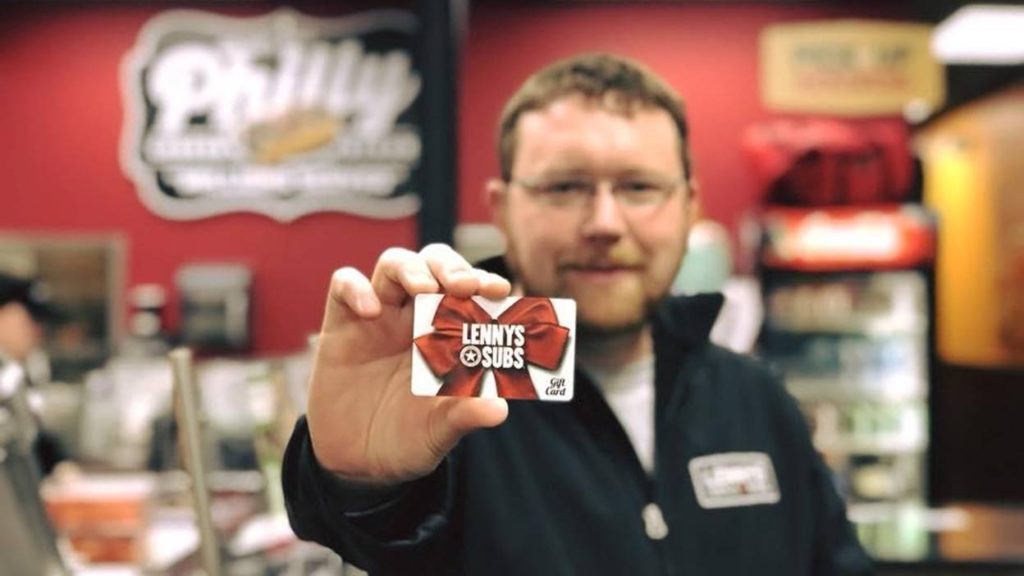 "We have been open in Daphne for 11 years. We have grown our first restaurant in Daphne to be one of the top 10 Lennys' locations in the entire system, and in order to keep growing, we needed to open another location. Since we have already done the hard work of building a loyal guest following within the local community, it only makes sense to continue to leverage that awareness," said McGee.
Signing on for his first Lennys location meant Andy would be turning down a full scholarship offer from Vanderbilt University's Law School in order to pursue his dream of being a small business owner. They bought the territory for the second location when his wife was just about to give birth to triplets. After winning the 2017 Franchisee of the Year award, being a part of the brand's franchise advisory council voted in by fellow franchisees and seeing tremendous success with his first location, McGee believes now is the right time for location number two.
Jennifer Benjamin, Vice President of Franchise & Market Development, is grateful to have McGee and his wife as a part of the Lennys family. "Andy and Jennifer McGee epitomize the qualities we look for in franchisees. They are actively involved in their community, treat their guests and employees like family, and are committed to the overall vision and future of the brand. We couldn't be more excited about them opening their 2nd location in the Mobile market and will continue working hard to provide them with the best in class support from our entire team at the Restaurant Support Center."
McGee knows the importance of local store marketing and has brought on someone full-time to focus on that aspect of the business. He explained that the restaurant is active on social media, enjoys person-to-person marketing with trips to local businesses and provides donations when local community groups or organizations request it from his restaurant. He also enjoys working with a PR firm for additional local exposure,  "Regionally, No Limit Agency will coordinate news station visits a few times a year to reach our guests through TV without spending big dollars on TV commercials."
Support from the Restaurant Support Center team has also been a key to McGee's success and preparation for his second opening.
"The support has been impressive. I have weekly conference calls with the Restaurant Support Center and individuals from each specific department," said McGee.
"We are very excited we have the opportunity to grow the brand with the McGee's. Andy and Jennifer are terrific brand ambassadors. They, along with their team in Daphne, Alabama, deliver industry-leading hospitality. Taking that guest experience and our great food to the Malbis area of Baldwin County will be a winning combination," said president and CEO Kevin Martin.
When it comes to being a franchise owner with Lennys, McGee loves the fact that it is a career where he still gets to spend plenty of time with family as he can be home with his wife and four kids, all under the age of five, by 3 p.m. on most days. Although, he stresses the fact that you will need to work hard and be involved as an owner to succeed.
"You can't approach a restaurant franchise with the idea that you'll be a passive investor. If you reach that stage, kudos to you, but I'm always only one or two steps removed from making sandwiches," said McGee.
With startup costs ranging from $188,216 – $396,146 and a franchise fee of $25,000, Lennys is currently seeking entrepreneurial-minded individuals who are driven to succeed to join its team of nearly 100 restaurants in 11 states.