3 Reasons to Start Your Own Food Franchise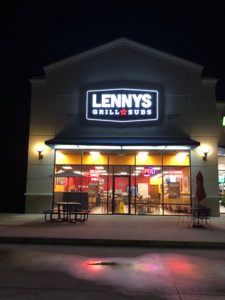 No matter where you live, people in your community often share a passion for great food and an engaging environment that keeps them coming back. Let's face it, there will always be a ton of options for dinner, but restaurants that focus on great food and outstanding service will have a leg up on the competition. What's more, we've noticed the food franchisees who own these thriving establishments have certain passions in common. At Lennys Grill & Subs Franchise, we're seeing that entrepreneurs of all ages and backgrounds are highly attracted to food franchises for a number of reasons. So, what are some of the most compelling reasons to start your own food franchise?
Entrepreneurs Invest in an Established Brand
Starting your own business can be difficult, but when you're buying into a successful food franchise that already has an outstanding business model and great customer base, it's hard to lose. Instead of starting from scratch, why not partner with a high-performing food franchise and join in their success?
The Franchisor Assists in Work Toward a Maximum ROI
When you purchase a food franchise, your franchisor wants to see you succeed and they have the keys to help you get there. When you purchase a franchise with Lennys Grill & Subs, we are invested in your success and support you. Together, we can accomplish incredible things in the food franchise space.
Obtaining Financing Can Be an Easier Process
Securing financing can be an exhausting process when you're starting your own business. However, when you invest in a thriving food franchise, banks have been known to approve loans much more readily. They see less risk involved when lending to someone who is purchasing a food franchise. Makes sense to us!
Thinking of opening a food franchise in your neighborhood? Lennys Grill & Subs has franchise opportunities available across the southeastern and south-central states. As one of the most successful sub shops in our region, we're growing at a rapid rate and we're not slowing down any time soon! Consider all the reasons to purchase your own sub franchise and contact our franchise team to learn more about our exciting franchise opportunity!